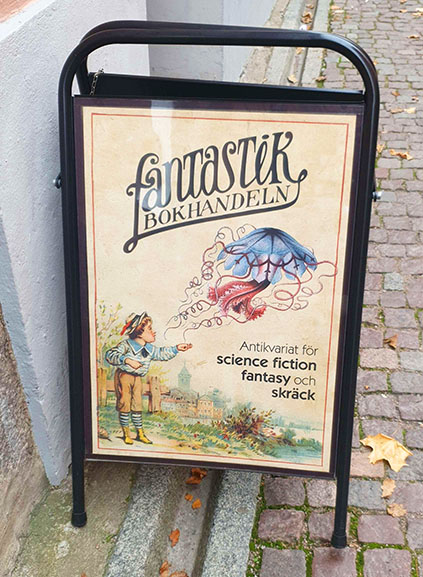 Normally I live on a small island in the Baltic Sea, but this week is the fourth I've been staying with my boyfriend on the mainland. Because he's very busy with school I came here over the month of October, taking my work with me. This is indeed one of the big perks with working digitally – you can work from literally anywhere so long as you have access to a computer.
This weekend we went to meet my in-laws in the capital, only an hour from where we live here in Uppsala. While there we ate at a fancy restaurant (lovely food), went on a guided historical walk through the old parts of the city (amazing storytelling) and played disc golf (have any of you tried it? I can't seem to be able to get the disc flying any longer than 10 meters no matter how hard I try).
We also found our way past two second hand book shops specializing in Fantasy- and Science Fiction. While small, their ceiling-high shelves were positively cramped with lovely old books, and honestly; if there's any place that feels like home, it's a place just like that. Nothing in this world seems to bring me to life like the smell of dusty old tomes and the promise of the faraway, magical lands within them.
At one of these shops my in-laws gifted me a beautiful old edition of Rose Daughter, a novel by one of my favourite authors (Robin McKinley), which I've yet to read. Really looking forward to that!